The lawmakers in the Scottish parliament unanimously approved a bill on 24th November 2020. The bill titled "Period Products (Free Provision) (Scotland), Bill". According to the bill, local authorities are required to provide free access to the period products.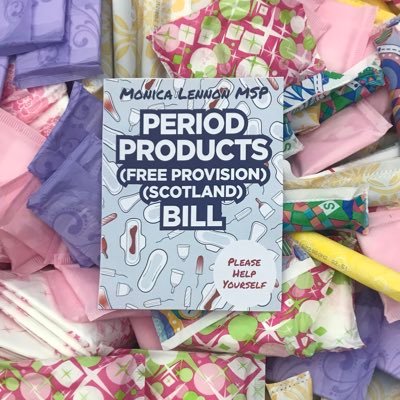 INTRODUCTION OF THE BILL
Firstly, the bill introduced in April 2019 by lawmaker Monica Lennon from the opposition Labour Party. Basically, with the aim of handling Period Poverty. Especially during the coronavirus pandemic, the need for the free sanitary product arises. Monica Lennon stated that:
"Periods don't stop for pandemics and the work to improve access to essential tampons, pads and reusables has never been more important".

Monica Lennon, Labour Party
Afterward, winning the support of the government the bill passed with a 121-0 vote. As well as of the other opposition parties. Furthermore, problems arise in local communities to buy these products. As they struggle a lot to afford them.
AIM OF THE BILL
After taking this step Scotland becomes the first in the world to make period products free. By operating such bills, the homeless people.As well as no fixed address people will also have access to the period products they need. Moreover, the assurance that whoever menstruate have reasonably convenient access to the period products.
Also, the bill aimed to end the stigma and silence. That is especially, bounded with the mensuration flow. As well as to remove the gendered barriers.
The bill ensures all the sanitary products such as tampons and sanitary napkins to be available free of cost throughout Scotland. Moreover, doesn't matter to which caste or gender the person belongs. Besides these schools and Universities were earlier funded for the period products. But from now onwards, legalized.
However, the quantity for each person is not mentioned in the bill. Thus, can result in people collecting more products than their respective needs
Scotland could soon become the first country to eliminate period poverty once and for all.

Rose Caldwell, chief executive of the girls' rights charity Plan International U.K.
All the other countries should also take inspiration from Scotland on this. Especially, in a country like India. As the period poverty rate is immensely high in India. Moreover, deaths are also taking place due to this reason.
Author: Kritika Agarwal
---
Check out other articles at : Puerto Rico Telescope
Featured image credits : The Times