Lohri marks the beginning of a new year along with the arrival of longer days after winter crest. Also, the main celebration of this festival is in the Himalayan range of Northern India. Especially farmers in Punjab celebrate it as the winter crop season celebrations. So, from now the sun's journey to the northern hemisphere will mark.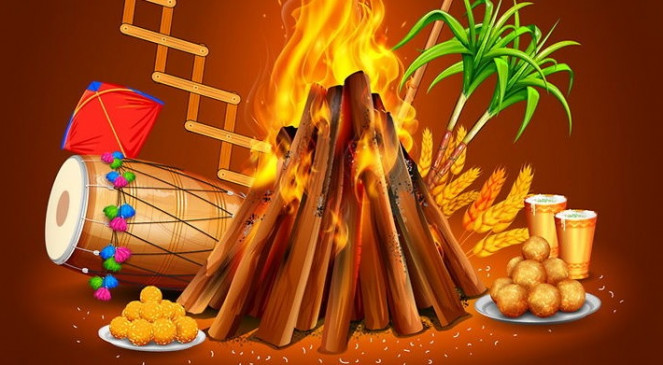 Different communities like Sikhs, Punjabis, and Hindus celebrate it to mark the end of winters. The festival begins with the holy bonfire after sunset. Along with the dhol beats and dance around the bonfire with a delicious meal. According to the ritual's foods like til (black sesame seeds), gajak, gur (jaggery), peanuts, and popcorn are fed to the fire. Also, the distribution of these food items to the people around is consider blessings from God.
SIGNIFICANCE OF LOHRI
The name Lohri comes from the word

'Tilhori'

where Til meaning sesame and 'rorhi' meaning jaggery/gur. It is believed that both foods are cleanser for the body. Thus, these foods are offered to the people.
The

bonfire

symbolizes Lord Agni, the God of fire. Basically, people fed the bonfire with gud, til, peanuts, etc to seek blessings and a wish of a prosperous year from the fire. Along with walking around the bonfire with pure hearts. So that our wishes are heard immediately.
For Farmers, it's a

great occasion

. As they seek blessings from the Lord before the harvesting begins. Moreover, pray that their land will flourish with prosperity. Along with that poverty vanishes and they might get a good harvest.
People exchange gifts among themselves as a Lohri present along with blessings. Moreover, people visit each other houses to greet them. Along with this, children are given money and food items as Lohri's prasad.
The first Lohri of a new addition to the family is of

great significance,

whether it's a new bride or a new baby. Moreover, that year Lohri celebrations will be full of more joy, enthusiasm, and happiness.
How this year Lohri is different for farmers?
This year Lohri celebrations will be different for farmers. As the protest is still going on against the farmer's bill. For farmers, Lohri is one of the biggest folk festivals. The joy, happiness of the Lohri might not be seen this year. As this time they have to celebrate it away from their families. So, all the celebrations will be done in the places where they are currently protesting. The biggest hope for the farmers from this year Lohri is the abolishment of this bill.
On top, many people also tweeted regarding this saying: Lohri will see the burning of the Farm Laws.
Author: Kritika Agarwal
---
Do read our other article at: Farmers protesting against the Three new Farm bills 2020
Featured Image Credits: bhaskarhindi