Yesterday, Prime Minister Narendra Modi addressed the nation to conclude his final Mann Ki Baat of 2020. PM Modi emphasizes the need to get rid of single-use plastic in India in 2021. Besides, PM Modi urged the manufacturers and industry leaders of the nation to make sure their products are world-class. Further, he highlights that this is the mantra of Vocal for Local for booming in every house.
Mann Ki Baat is PM Modi's monthly radio program to the nation. It is broadcast on the last Sunday of every month. The 72nd edition is the last of this year before the 2020 bid farewell.
Here are some of the highlights of Mann Ki Baat
-PM Modi emphasizes the need to get rid of single-use plastic in India in 2021 via his final Man Ki Baat 2020.
– Also, PM Modi conveyed that our nation developed new capabilities due to the Covid-19 pandemic. And, PM calls this capability Aatmanirbharata or self-reliance.
– Moreover, PM Modi expresses that he wants to make Kashmiri saffron an in-demand brand globally.
– The Kashmiri saffron was given the Geographical Indication Tag this year. Through this, we would like to form Kashmiri saffron a globally in-demand brand.
-People respectfully remember the supreme sacrifice of the family of Sri Guru Gobind Singh Ji. This martyrdom gave an all-new lesson to the whole of humanity & the entire nation. This martyrdom did a great work of protecting our citizens. We are indebted to this martyrdom.
-When I look at the youth of our nation, I feel elated. I believe so because the youth of my country have a Can-Do attitude & the spirit of Will Do. No challenge is too big for them. Nothing is out of their reach. –Prime Minister Narendra Modi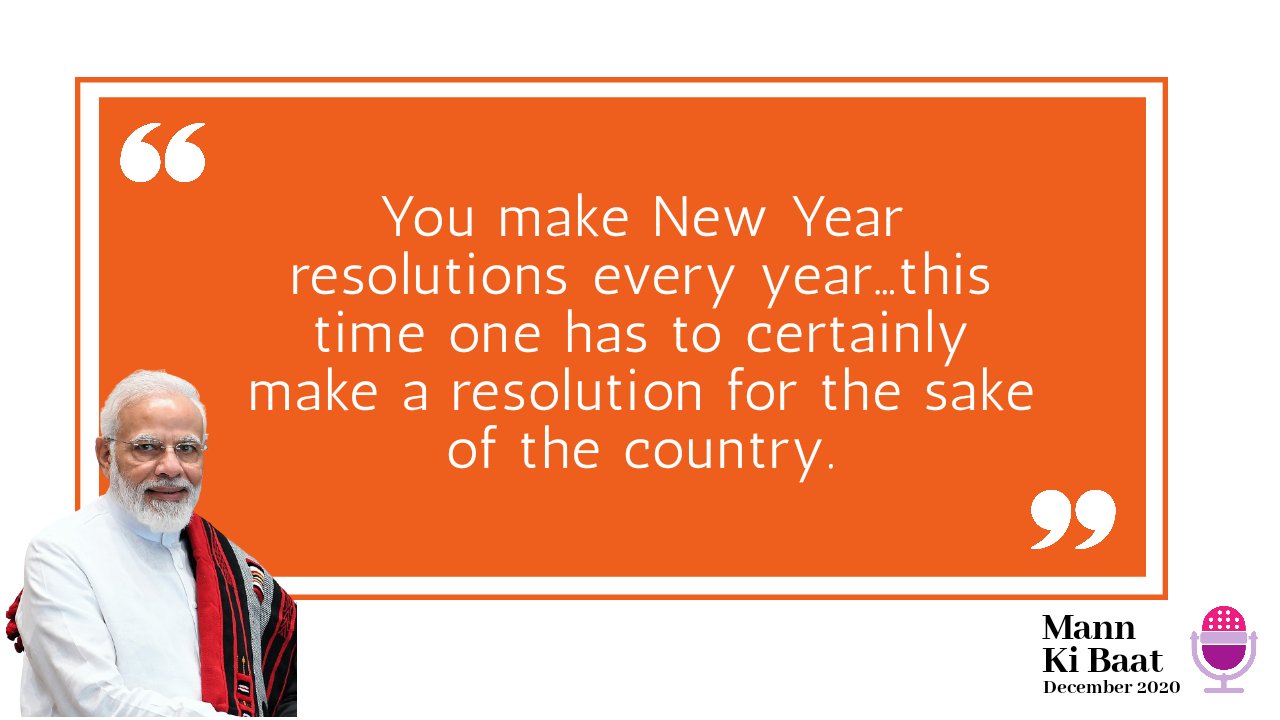 -India has seen a 60% increase in the leopard population between 2014 and 2018. In 2014, the leopard population in India was around 7,900. It increased to 12,852 in 2019. Their population has increased in most parts of the country, especially in Central India: PM Modi
-In the 71st edition of Mann Ki Baat, PM Modi had pointed out a strong, vibrant, and active alumni network. Besides, he urged educational institutions to embrace innovative approaches and develop creative programs for engagement with alumni.
At the Closure
-PM Modi points up that the best must be manufacture in India. Furthermore, he called out entrepreneurs and start-ups to come forward for the same.
–Thus, PM Modi began his address to the nation at 11 am and concluded
-So, the 72nd edition is this year's final one before 2020 ended.
Author– Pragya Verma
---
Checkout other articles– Agricultural subsidies–>Air pollution
Featured image credits– Twitter